Tokyo, Japan
Always one to come up with interesting graphic references, Milk Fed has picked American pop artist Robert Indiana this season.

Indiana's Love image, first created in 1964 for a Museum of Modern Art Christmas card, is simple, bold yet effective.

Milk Fed's version has replaced the "O" with a heart, rendered the image in multi-coloured stripes and applied using embroidery on
T-shirts and tote bags.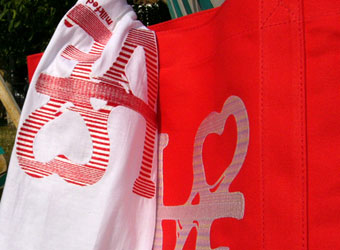 Milk Fed - Love